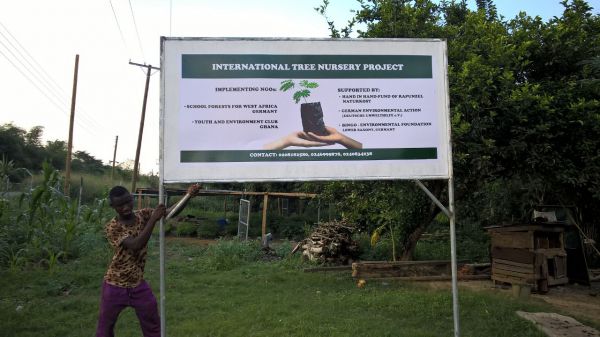 Tree nursery project
In order to achieve our goal to sustainable tree planting on school compounds in Ghana, School Forests for Westafrica has established a tree nursery in Nyakrom – together with the Niedersächsische Bingo-Umweltstiftung and Rapunzel Naturkost and our partner in Ghana, the "Youth and Environmental Club"!
It is of pivotal importance to us to include children in our projects, since as they are our future, it is crucial to teach children about the environment and climate. Only with children we will be able to create sustainable nature conservation schemes. In our work, we do not use any herbicides, pesticides or similar to avoid further contamination of the soil and water. We hope that after two years the tree nursery will be financially independent by selling fruits as well as fruit and decorative trees, and will be able to continue providing free seedlings to surrounding schools. The help of volunteers, however, will always be highly appreciated.